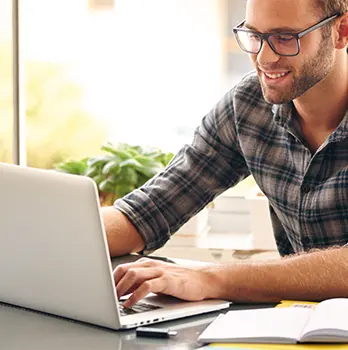 Disk space

Unlimited

Backup of deleted data

90 days

AES-256 encryption

Backup schedule

Web-based setup

Secure Data Center

Number of protected computers

Cloud Backup
Pay-Per-Use
Cloud Backup software
The Cloud Backup service is a professional backup solution for data stored on a Windows, macOS, or Linux computer's disk drive. Users can enjoy unlimited storage space, while easy installation and the intuitive Customer Panel make this service suitable to anyone.

Because Cloud Backup is offered in two billing models, you can decide which solution is more beneficial to you. If you prefer paying upfront fees and guaranteed resources, you should choose Cloud Backup in the Subscription Model. On the other hand, if you are looking for a flexible service with no limit on disk space, whose cost is based on the actual use of resources - choose Cloud Backup Pay-Per-Use.
Was bringt Ihnen das Cloud Backup Pay-Per-Use?
Unlimited
storage space

Cloud Backup in the Subscription Model allows you to protect up to 25 GB of data that you store on your computer. Regardless of whether you use a computer running Windows, macOS or Linux, you have the opportunity to ensure the highest level of security for your files.

Security

This software will effectively protect you in case you become a victim of a ransomware attack. Once access to your computer is blocked by hackers, you can restore your data with the click of a button. With Cloud Backup, you will also never lose your documents once your hard drive fails or you lose your laptop. If you modify or delete a file on your computer, you can restore its version from each day when a backup was done for up to 90 days back.

File protection

Cloud Backup ensures multi-level data security. Your files are AES-256 encrypted with your password before they are uploaded to Data Center that meets the highest TIER III and TIER IV standards and is ISO 9001 and ISO 27001-certified. This prevents the data from being captured by malicious parties having unauthorized access to your computer.

User friendliness

Backups are produced automatically, in real time, and according to your schedule. You can also back up your data at any time out of schedule. Backups are done incrementally, meaning that once a full backup of your files is created, further backups only update the files that have changed since the previous backup. This makes the application less demanding for your Internet connection, so more files can be backed up.
Full specification available in the desktop version
Detailed specification of the Cloud Backup service
Intuitive application

Backing up has never been so easy. The data backup application is installed on the computer within a few seconds, and the intuitive way of creating a backup copy enables the use of the Backup service by any user of a computer with Windows, macOS or Linux.

AES-256 local data encryption

Before being sent to the server, the data is encrypted locally on the computer and secured with a secure password known only to the user. Encryption is carried out using the symmetric AES-256 algorithm, which is hardware-supported by all modern processors, which means that the backup does not burden the computer.

Incremental backups

Files are fully backed up and subsequent copies are created on an update basis, adding only the changed information. This solution saves the amount of data transferred, reduces the load on the Internet connection and allows you to archive more data.

Data deduplication

Data from the computer is saved on the server in the form of blocks of fixed size. This allows you to make backup copies of even a very large number of files and speed up all operations. Duplicate files or similar content are saved only once in the backup. A small change to a large file on your computer allows only the changed portion to be uploaded to the server, rather than the entire file, which reduces the load on your Internet connection.

Data compression

Data from the computer before being sent to the server is compressed even several times using the fast ZIP algorithm. This allows you to archive more files and transfer more data at the same time.

On-demand backup

A backup from a computer can be performed at any time, regardless of the defined backup schedule. This allows you to send files changed on your computer to the server immediately after they have been modified.

Cloud backup schedule

Data archiving is performed automatically according to the schedule set by the computer user. The schedule allows you to specify on which days and at what time data is to be copied to the server.

A copy of deleted data

Files and directories deleted on the computer are backed up on the server for 90 days. If a file on your computer is modified or deleted, you can recover the file from each day it was backed up up to 90 days ago.

Backup copy verification

The data backup program regularly downloads a random set of files from the server, restores their contents and checks their integrity. In this way, problems with the data stored on the server can be detected before it needs to be restored to the computer.

Configuration via a web browser

You can configure the settings and use all the functions of the backup program using a web browser. Performing any data creation or recovery operation is simple and allows everyone to use the Cloud Backup service.

Configure the link speed limit

The data backup program allows you to specify the maximum link speed for data sent and received. This feature is designed to protect against a complete saturation of the Internet connection during the backup process, which may result in difficulties in using other applications on the computer.

Suspend the backup schedule

Pausing the data backup schedule allows you to periodically disable automatic backups. This is a useful function when the computer uses a permanent connection with poor parameters or billed according to the amount of data transferred.

Cloud Backup

Data from the computer is stored in the cloud using netart.com broadband fiber optic connections. The data is stored on RAID10 arrays and protected by an additional backup copy in a separate Data Center.

Secure Data Center

The Cloud Backup service is provided in Data Centers that meet the highest TIER III standards and have ISO 9001 and ISO 27001 certificates. This ensures the physical security of servers and collected data, as well as high availability at the level of 99.9% of the service time. Data Center netart.com are connected to each other by fiber optic links.

Quick access to data backup

High data access speed is ensured by our participation in the largest national and international Internet traffic exchange nodes, as well as netart.com's direct contacts with many telecommunications operators with a total bandwidth of more than 400 Gbps. Netart.com's large reserve of free bandwidth enables fast backups.

Requirements for the operation of the Cloud Backup application

operating system Windows 10 and 11, macOS 11 and 12, Linux (Ubuntu 18.04 and 20.04, Debian 10 and 11, Fedora 34 and 35)

installed web browser (in the current version): Chrome, Firefox, Edge, Safari

200MB free disk space
Requirements for the operation of the Cloud Backup application
Operating system: Windows 10 i 11
200 MB of free hard drive space
Web browser (current version)
Operating system: macOS 11 i 12
200 MB of free hard drive space
Web browser (current version)
Operating system: Linux
200 MB of free hard drive space
Distributions:
Ubuntu 18.04 i 20.04,
Debian 10 i 11,
Fedora 34 i 35.
Cloud Backup software FAQ
Install the Cloud Backup app on your computer.
Make sure you have the service ID and the one-time use code which you will find at your Customer Panel in the Cloud Backup area.
Click the Cloud Backup icon at your desktop or run the application from the system tray.
Enter the ID and the one-time use code in the application window and then save the settings.
Once activated, set you own data encryption password and run the first backup.

Log in to the Customer Panel and go to My services -> Cloud Backup. Click the Generate button to get the one-time use code. Note that the one-time use code is valid for 7 days once you have ordered the service or the code has been generated in the Customer Panel.

When Cloud Backup opens, enter the service ID and the one-time use code.
Set you own backup encryption password.
In the new backup settings window enter the backup name.
Select files to be added to the backup.
For automatic updates of the backup, enter time and select day(s) for running backup in the schedule settings.
Click the Create Backup button.

Click the Cloud Backup icon at your desktop or run the program from the system tray.
Choose Recover Files from the application menu.
Select the backup and start data recovery by clicking the Recover from Backup button.
Select the backup and start data recovery by clicking the Recover from Backup button.
Select folders or files you want to recover.
Choose destination where the recovered files will be placed, and decide whether to overwrite the files or to recover the files with the same time signature.
Click the Recover Data button to start data recovery from the backup.

Click the Cloud Backup icon at your desktop or run the application from the system tray. Choose Statistics from the left menu in the application window.
Log in to the Customer Panel and go to My Services -> Cloud Backup. Click the Statistics link under the service name. You will see diagrams showing the Cloud Backup storage usage.

Cloud Backup Pay-Per-Use Calculator