Activate DNS Anycast for your domain
Wskaż domenę, którą chcesz utrzymywać na serwerach DNS Anycast w netart.com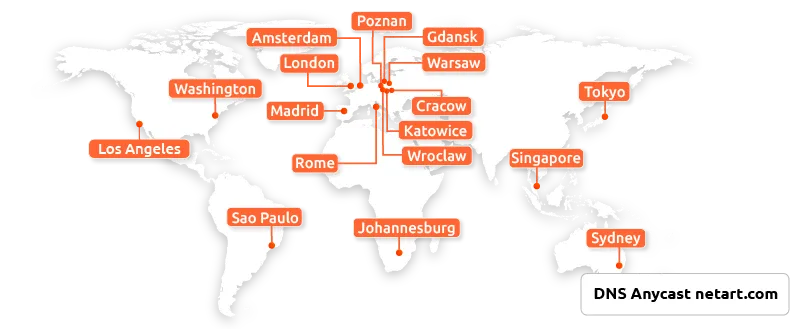 Thanks to the deployment of DNS servers in various places around the world, Anycast technology shortens the time it takes to open websites. Queries for a specific domain are always directed to the nearest DNS server within the reach of a given user. A large number of active DNS servers and their geographical location on 6 continents significantly increases the security of the DNS service, eliminating the risk of its unavailability due to DDoS attacks or problems on interconnect lines.
Check how DNS Anycast works
Protection against DDoS attacks

DDoS attacks consist in blocking the operation of servers by mass querying them by bots, i.e. infected computers. Thanks to the location of Anycast netart.com DNS servers on 6 continents, potential DDoS attacks are absorbed at the local level, thus minimizing the risk of possible service downtime and maximizing the speed of responses provided by the DNS server.

Privacy protection with DNS over TLS

DNS over TLS protects the privacy of queries and responses from the DNS system. While during the user's communication with the website itself, the connection is usually encrypted (using the HTTPS protocol), Internet providers can still find out what website someone who uses their services is currently connecting to. Thanks to DNS over TLS, the connection between the user's computer and the DNS server is encrypted, as a result of which Internet providers are unable to verify which websites are currently visited by their customers

Automatic configuration of DNSSEC security

Domains with DNSSEC protection enabled are protected against being redirected to a fake website. This is important when we enter, for example, a bank or online store website. Fake websites of various companies or institutions are often used to extort passwords and credit card numbers. Only a few DNS server operators offer the possibility of using DNSSEC and DNS over TLS security at the same time. The service is available for domains for which netart.com provides registration services.

Automatic configuration of SPF, DKIM, DMARC

For domains hosted at netart.com, thanks to DNS Anycast, automatic configuration of DKIM security is performed, along with adding keys for signing e-mails to the mail server. Thanks to the automatic configuration of DKIM, e-mails are sent with a unique signature, which affects their positive treatment by the anti-spam filters of the receiving servers. The DMARC mechanism makes it possible to confirm whether a specific e-mail should be accepted by the receiving server, and the SPF protection defines a list of servers authorized to send e-mails.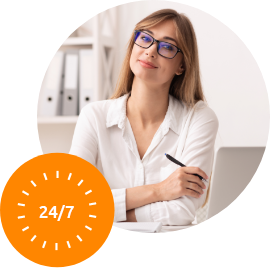 Have questions?
24 hours a day, 7 days a week our Customer Service Department
is ready to answer any of them!

{content label="MEDALS"}