Why should you keep your domain at netart.com?
Domains registered with netart.com in the "Secure Domain" package receive additional functionalities that comprehensively protect and accelerate the services associated with them. DNSSEC protection prevents cybercriminals from using your Internet name, and DNS Anycast servers speed up your websites. As part of the "Secure Domain" package, you also gain automatic configuration of SPF, DKIM and DMARC email security, and the DNS over TLS mechanism encrypts DNS communications related to your domain with a certificate.
Although you may not know what the technologies we have listed with such complicated names are for, remember that they provide the Internet security you need and should never give up. Implementing them yourself is very time-consuming, so save your time and money by registering your domain at netart.com.

You can find more than 300 different domain endings at netart.com. Trust our experience and register your internet name today!
The netart.com brand is part of the NetArt Group, which operates globally in almost 100 countries around the world. NetArt Group's services have been used by more than 1,000,000 customers who have registered more than 5,000,000 domains. NetArt Group has been an accredited partner of ICANN and EURid for many years.
Safe Domain package specifications
Detailed specification of the "Secure Domain" service
Domain registration and maintenance

Fast domain registration with high standards of security and customer service.

DNS Anycast service

DNS Anycast is a set of essential services, related to the operation of the Internet domain, necessary for the secure operation of e-mail services and websites. The DNS Anycast service includes:

DNS servers using Anycast technology

Anycast technology, by deploying DNS servers in different locations around the world, reduces the time it takes to open Web pages. Queries for a specific domain are directed to the closest server within the user's range, with other servers ready to respond on a backup basis.

DNSSEC support

DNSSEC protects against cybercrime by preventing web browsers from being redirected to a fake website. The security feature is an essential protection for any domain. The service, for technical reasons, is available only for domains for which netart.com is the registrar and whose registries allow DNSSEC activation.

SPF, DKIM, DMARC security features

Automatically activated security features that protect a domain's email accounts from third-party impersonation of the email sender. The security features are configured in DNS and allow limiting the list of servers authorized to send mail, signing e-mails with asymmetric RSA encryption keys, and detecting and reporting to the domain administrator attempts at message forgery.

DNS over TLS security

DNS over TLS encrypts DNS queries, enhancing the privacy and security of those using the domain's Web site.

CAA protection

CAA is a security feature in DNS that protects against unauthorized issuance of an SSL certificate for a domain. CAA indicates the Certificate Authority authorized to issue an SSL certificate.

Domain management panel

Advanced Customer Panel allows you to manage your domains in an intuitive way. Among other things, it allows you to configure settings in DNS and update the domain Registrant data.

24/7 support

Netart.com consultants are available 24 hours a day, on all days of the week, offering assistance on issues related to functioning of services and the selection of additional services.
What do you gain by registering a domain at netart.com?
Fast registration and dedicated service Fast domain registration with high standards of security and customer service.
Security of services The domain registration price includes a package of additional functionalities that comprehensively protect and accelerate the operation of services associated with the domain.
Easy management Intuitive panel that allows you to efficiently manage domain configuration, including, among other things, making changes to DNS settings and updating Domain Registrant data.
24/7 support Customer Service is available 24 hours a day, 7 days a week. You can count on help with your domain configuration at any time.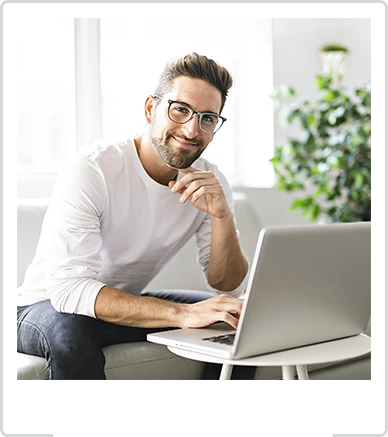 REGISTER YOUR DOMAIN NAME
Frequently asked questions about Internet domains
A domain (a.k.a. Internet address) is a unique name on the Internet under which you can host a Web site or create e-mail accounts. An example of a domain is netart.com. The choice of a specific domain is generally associated with the name of the company, the name of the solution or product offered. The operation of an Internet domain is associated with a hosting service, which provides services associated with the domain, such as WWW, e-mail or FTP.

An Internet domain consists of a name of your choice and an extension. Analyzing the domain "netart.com", the name is "netart" and the extension is ".com". You can register many different extensions at netart.com, among which you can find global TLDs (.com, .net, .org, .info, .biz), European domains (.eu), country domains (e.g. .de, .cz, .sk, .at, .us, .co.uk, .es, .it, etc.) and nTLD domains (.online, .shop, .top, .vip, .store, etc.).

A subdomain is a web address that has been created within an existing main domain. If we assume that the main domain is netart.com, then subdomains would be: blog.netart.com, mail.netart.com, help.netart.com, etc. Subdomains are most often used to separate from parts of a large website, such as a blog or store. On CloudHosting servers, offered by netart.com, you can create an unlimited number of subdomains at no additional cost.

Most domains can be registered for a period of 1 to 10 years. When registering a domain, it is necessary to provide the details of the domain registrant, which can be a company or an individual. It is also required to provide a postal address, e-mail address and contact telephone number. After the expiration of the period for which the domain was registered, and in the case of non-payment of the fee for the continuation of the domain maintenance after the grace period, the unpaid domain goes again to the pool of free domains (available for registration by anyone).

If you want to order a new domain, use the search engine that is available at the top of https://www.netart.com. From the list of available extensions that will be displayed after searching the domain database, select the ones you want to register. In the shopping cart, indicate the subscription period for which you want to register your domains, and accept the terms and conditions. In order for the domain to be registered, it is necessary to pay the order placed in this way.