Scrubbing Center netart.com

The Scrubbing Center belonging to the NetArt Group is a specialized infrastructure whose task is to analysis of IP transmissions from the Internet in order to detect and filter out harmful traffic that threatens the proper operation of websites, e-mail, DNS and other services offered by netart.com. The protection includes, in particular, the elimination of threats related to DDoS attacks, volumetric attacks (link saturation), SYN flood, UDP ICMP flood and DNS or NTP reflection.


Scrubbing Center oversees all netart.com services, providing real-time protection for CloudHosting, VPS servers and dedicated servers. Protection is provided using specialized Fortinet network devices operating in the HA (High Availability Cluster) with full speed of all netart.com connections.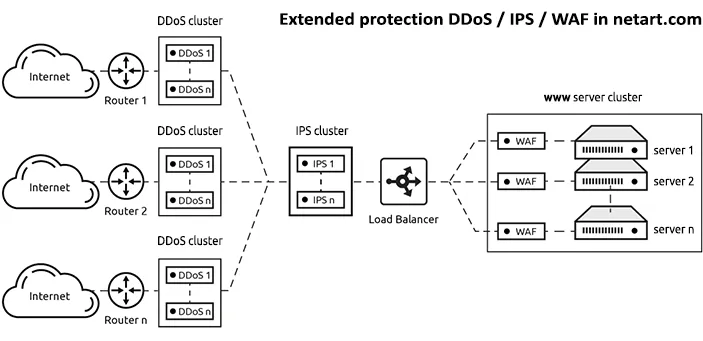 The implementation of the Scrubbing Center was preceded by the expansion of the network belonging to the NetArt Group and its connections to the Internet, which guaranteed the redundancy of the infrastructure needed to handle emerging DDoS threats related to attacks aimed at saturation of bandwidth. The distributed infrastructure, located in all Data Centers used by the NetArt Group, ensures the separation of customer traffic from different regions of the world.

The use of the advanced IPS (Intrusion Prevention System) for CloudHosting services, also implemented using specialized network devices from Fortinet, ensures that attacks are detected at the network scanning stage, even before the attacks start. This protection covers both websites, databases and e-mail. Traffic filtering takes place in millionths of a second and does not cause measurable delays. The IPS system detects from several hundred thousand to several million incidents every day, blocking access to hundreds of thousands of hosting serviced by NetArt Group.